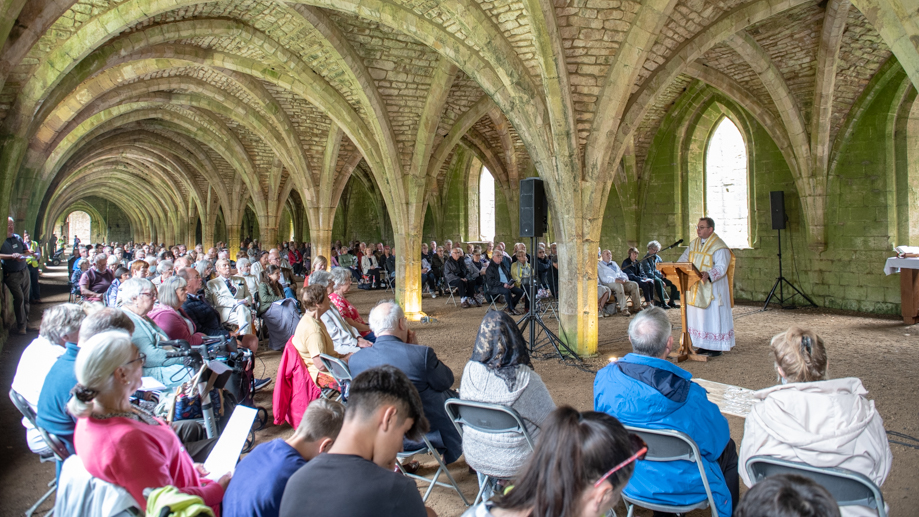 Mass for the feast of St Bernard of Clairvaux at Fountains Abbey, North Yorkshire was held at 12.00 Noon on Friday 20th, August 2021, The Mass was celebrated by Very Rev Richard Duffield, Provost of the York Oratory the concelebrants were from the Diocese of Leeds: Fr Neil Byrne, Fr Darren Jones, and Fr Henry Longbottom; the Deacon was Rev David Arblaster.
Fountains Abbey is one of the largest and best-preserved ruined Cistercian monasteries in England. It is located approximately 3mi south-west of Ripon in North Yorkshire, near to the village of Aldfield. Founded in 1132, the abbey operated for 407 years, until 1539, when Henry VIII ordered the Dissolution of the Monasteries. The abbey is a Grade I listed building owned by the National Trust and part of the designated Studley Royal Park including the Ruins of Fountains Abbey UNESCO World Heritage Site.
Fountains Abbey has been a place of religious worship for nearly 900 years, a tradition that is joyfully continued through the work of the Fountains Abbey Chaplaincy; an ecumenical group of Ministers and lay readers of all denominations from local churches working as part of National Trust Volunteering.