Personal Injury Photography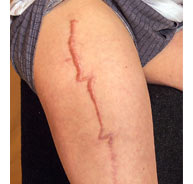 If you have an accident which results in you seeking legal advice leading to a claim a set of photographs of your injury taken by an independent professional photographer would greatly benefit your case. I can take close up detailed photographs of your injury under sensitive yet accurate lighting conditions to show a clear record of any scarring or injury. All the photographs are printed at a professional lab who's discretion I trust. The original image files will be kept should they be required by a court for verification and each print is labelled and signed by me on the reverse for authentication.
I can also provide independent photography for other cases where insurance claims are made e.g. accidents, building damage, vehicle damage etc.